The current incarnation is the fourth game version with the universe Chronopia.
1994 – Äventyrsspel (Drakar och Demoner)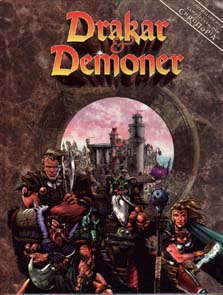 The 5.Edition of the Swedish Role-Playing Game "Drakar och Demons" (1994) named Chronopia. It is set in the great city of Chronopia in the lands of Ereb Altor.
In this huge city you play in different districts of each race are dominated, be it dwarves, orcs, humans or elves. Chronopia is ruled by the One King.
Two sets of rules, eleven supplementary values ​​and two novels were published by 1999.
1997 – Target Games (1st Edition)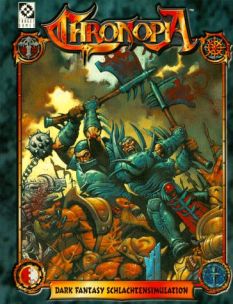 Based on the great success of Science Fiction TableTop "Game Warzone – Mutant Chronicles", the fantasy game Chronopia was released by the same company in late 1997.
Over the next four years, the game was expanded with four supplements, two campaign boxes and numerous miniatures
Chronopia is no longer just the big city, but has become a whole world with different races and factions.
The five races Firstborn, Blackblood, Devouts, Elves and Dwarves appeared first in the basic rule book, and later the races Sons of Kronos, Stygians and Swamp Goblins were added via the supplements.
2002 – Excelsior Entertainment (2nd Edition)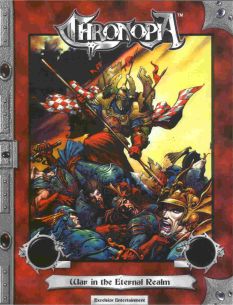 The American company Excelsior Entertainment received the license for Chronopia at the end of 2001. The core product was the 2002 published new edition of the rulebook with all races and units.
Aside from various minor rules and balance changes, one of the key aspects was the introduction of the deployment cards that enabled the hidden deployment mode.
The summary of all rules, factions and units in one book makes this very extensive.
In addition to the book itself, various new units were published and in 2005 a supplementary was being worked on that was no longer published due to the end of the license.
2022 – Uhrwerk-Verlag (3rd Edition)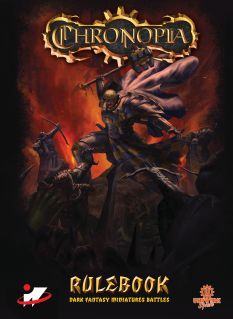 As part of the Kickstarter carried out in the first quarter, a new edition of the rules was financed in addition to many newly designed figures.
The rulebook, which has remained the same in its core rules, has nevertheless received many changes compared to the previous editions.
The focus of the change here is the playability in different sizes from the hero level with 4-8 characters to large mass battles with large armies.
The figures are adjusted from 28mm to 32mm to the modern game sizes. SioCast is now used as the material instead of tin.
The delivery of the financed products is planned for the end of 2023. After that, they will also be available in regular stores.